Dr. Neha Khandelwal
MBBS, MS - Obstetrics & Gynaecology
Diploma assisted reproductive technology-University of Germany
Gynecologist, Obstetrician, Infertility Specialist
17 Years Experience Overall (14 years as specialist)
Dr. Neha Khandelwal practices at Fehealth Clinic in GK1. She is also the Director of the Department of Obstetrics and Gynecology at Cloudnine Hospital in Kailash Colony, New Delhi.
Prior to joining Cloudnine, Dr. Neha was working as a senior consultant at Rainbow hospital, Malviya Nagar and at Rosewalk by Rainbow hospital Hospital, Panchsheel park, New Delhi from April 2018 till Feb 2023.
She has completed her MBBS and MS as a Gold Medalist from the prestigious Jawaharlal Nehru Medical College, Belgaum, Karnataka under the aegis of Rajiv Gandhi University of Health Sciences, Bangalore.
After this, she did her senior residency for 3 years at Vardhman Mahavir Medical College and Safdarjung Hospital, New Delhi.
She then went to complete her Diploma in Assisted Reproductive Technology from the University of Germany. She also received training in minimally invasive Gynecological surgeries from Pune.
She has numerous awards to her credit and has treated very high risk cases successfully.
Special Interests – Management of high risk pregnancies from conception till delivery, Holistic antenatal care encompassing birth psychology education, nutritional advice, exercises in pregnancy, pelvic floor exercise training and a lot more, Managing menopause and midlife health issues in women including all Gynecological diseases like fibroids, endometriosis, Hysteroscopic and Laparoscopic surgeries like hysterectomy, cystectomy, myomectomy and many more, Managing Adolescent health problems, PCOS, Managing infertile patients etc.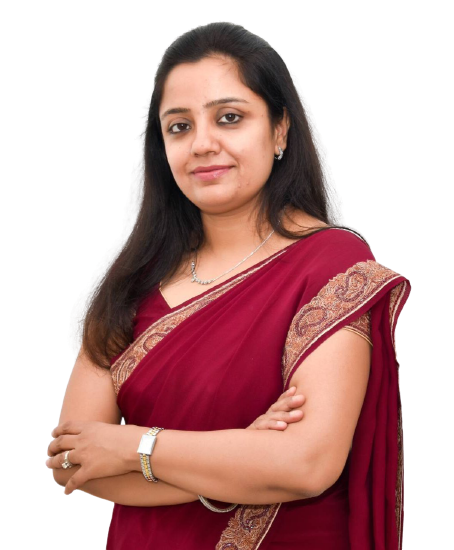 The Best Medical And General Practice Care!
Our Expertise
Pregnancy Care
If you take proper prenatal care, you can certainly increase your chances of having a smooth pregnancy.
Gynaecological Problems
Gynecologic diseases in general are diseases that involved the female reproductive track.
Infertility
Infertility is a disease of the male or female reproductive system defined by the failure to achieve a pregnancy after 12 months or more of regular unprotected sexual intercourse.
Laparoscopic Surgeries
Laparoscopic surgery is a surgical technique in which short, narrow tubes (trochars) are inserted into the abdomen through small (less than one centimetre) incisions. Through these trochars, long, narrow instruments are inserted.
Midlife Health and Menopausal Issues
Every woman experiences her midlife years differently. The changes that occur during this period, including changes in sexual well-being, are typically caused by a mix of both menopause and ageing, as well as by typical midlife stresses and demands.
Looking for Best Pregnancy Treatment?
FOLLOW US ON FACEBOOK & INSTAGRAM
Helping Patients From Around the India!!
Our staff strives to make each interaction with patients clear, concise, and inviting. Support the important work of Medicsh Hospital by making a much-needed donation today.
We provide a comprehensive range of plans for families and individuals at every stage of life, with annual limits.
Health Essentials
Recent Articles