Overview
While Heather Hirsch, MD, MS, NCMP, was training to be a specialist in women's health, she noticed a gap in women's healthcare that defied logic: Menopause affected almost every woman, noting symptoms often last for years. Yet patients rarely seemed to receive complete information about the changes they were undergoing. Menopause is the stage of life when a woman's period stops.
Dr. Hirsch observed that the care provided often fell short of a comprehensive approach to midlife health that could ease symptoms and improve daily life for women going through menopause. In the Ohio clinic where she worked at the time, Dr. Hirsch listened as women described how they felt when they raised the topic with prior physicians: dismissed, confused and frustrated.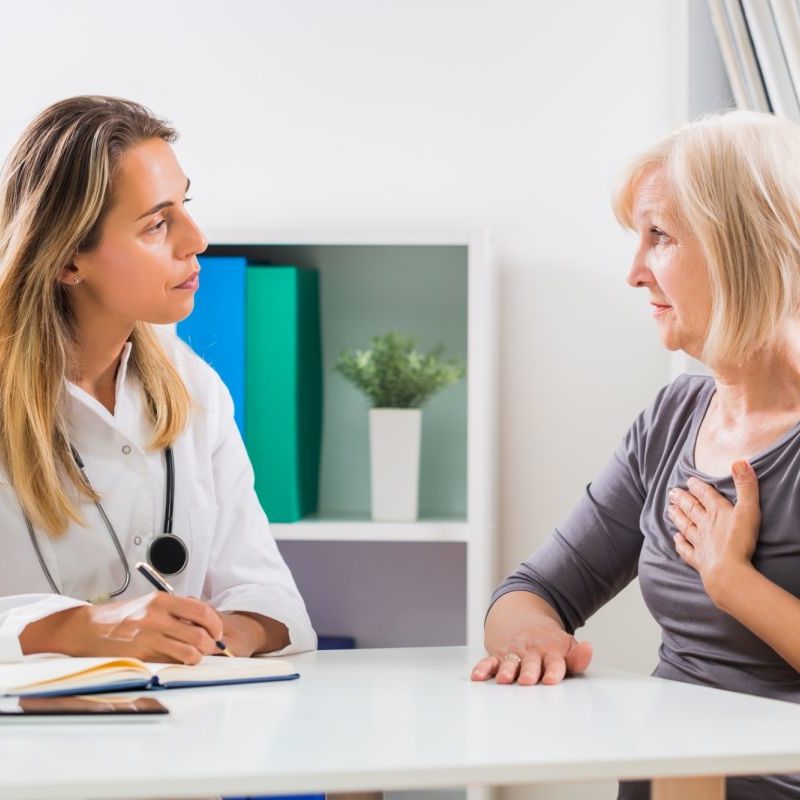 New Menopause and Midlife Clinic
Now Dr. Hirsch, a Boston menopause specialist, leads the newly opened Menopause and Midlife Clinic at the Fish Center for Women's Health at Brigham and Women's Hospital. At the clinic, Dr. Hirsch uses a well-informed road map and personalized approach to guide women through a confusing time. "I've made it my mission to care for women in menopause, an area that is often ignored or forgotten," said Dr. Hirsch. "I really feel this is the most underserved area of women's health."
At Brigham and Women's Hospital, Kathryn M. Rexrode, MD, MPH, chief of the Division of Women's Health, had reached a similar conclusion. She tapped Dr. Hirsch to lead the new Menopause and Midlife Clinic. "We hope to meet the needs of female patients at the Brigham as well as throughout the region with comprehensive care for menopausal symptoms," Dr. Rexrode said.
Located in the Fish Center for Women's Health — a multispecialty practice at Brigham and Women's Health Care Center in Chestnut Hill — the new clinic will care for women having symptoms of menopause and perimenopause.
The clinic provides individualized care for the most common health concerns of women during their midlife and menopause transitions. Dr. Hirsch also addresses bone health, sexual health and other common midlife concerns. Dr. Hirsch's goal is to address symptoms and improve quality of life so that women feel educated, empowered and confident.
Tips for understanding and managing menopause
While Dr. Hirsch emphasizes that each woman's situation is unique, she offers these six tips:
1. Menopause is not just hot flashes.
While the average age of menopause onset is 51 years, a woman's reproductive hormones begin a natural decline well beforehand during perimenopause. Symptoms vary from one woman to the next and often change over time. Beyond hot flashes, women may experience a range of changes including hair loss, weight gain, changing libido, brain fog, insomnia, vertigo and chronic diseases such as diabetes.
"Many of these symptoms can be treated safely and effectively, and I try to raise that awareness in women," said Dr. Hirsch. "It's a time when many patients feel lost, frustrated and fearful — and a lot of that is unnecessary. Education and myth-busting have become big parts of my job."
2. You don't need a multitude of expensive tests to determine whether you're in menopause.
Two simple blood tests that measure reproductive hormones usually can reveal whether you are in menopause: free estradiol, which decreases with menopause, and follicle-stimulating hormone, which increases. These tests can be done by a menopause specialist, your internist or your gynecologist.
3. Know when it's time to see a doctor for your menopausal symptoms.
There's no wrong time to see a menopause expert. One type of patient is the proactive patient. She may not even have any symptoms, but she wants to be educated, informed, know what her options are and what is fact versus fiction. A second type of woman is just beginning to have symptoms. Lastly, there's the woman who's had had symptoms for far too long. There is never a wrong or right time, but sooner is better. So, don't wait to be seen!
4. We now know more about the risks and benefits of hormone therapy (HT) for menopause symptoms – and who is likely to be helped by it.
Hormone therapy is when women are prescribed versions of the reproductive hormones that decline in midlife to treat symptoms of menopause. It's been a controversial treatment since the early 2000s, when a large, historic study suggested negative long-term effects for some women.
After further study, most menopause experts now agree that hormone therapy, when used within 10 years after menstruation ceases, offers benefits with minimal risks when used in women with no known contraindications to HT. A contraindication is a specific situation when a drug shouldn't be used because it may be harmful to a person. Benefits of HT include greater longevity, less heart disease and improved quality of life most likely due to improved sleep and fewer hot flashes. Dr. Hirsch says some women in her practice report feeling better and more "like themselves" with a hormone therapy that is carefully matched to their needs.
Women with conditions that are known risk factors (including a history of blood clots or active cancer) may not be candidates for hormone therapy. For these women, along with women who have not started HT within 10 years of their last menstrual period, your conversation with a health care professional about risks and benefits will be somewhat different. However, nonhormonal alternatives are available to provide symptom relief.
5. Keeping a health journal can improve your wellbeing through midlife.
Dr. Hirsch suggests keeping a health journal, and you can start even before you experience menopause symptoms. Entries can be brief. Just start taking notes, a sort of inventory of your health that includes any vaginal bleeding or spotting, any new symptoms and the quantity and quality of your sleep. If weight is a concern, start a food journal and an exercise journal. If mood is an issue for you, note it. You can expand the journal however you'd like. It eventually can be a helpful tool for you and your physician.
Even if your discomforts are minimal, the journal will chronicle when your menopause started. This will be of great help to your physician and you'll have this record to give to your daughter, who will appreciate learning of your midlife experience when hers begins in years ahead.
6. Advocate for yourself: You know yourself and your body.
By the time you reach midlife, you know yourself and your body. Tell your doctor if you have any concerns about your health and menopause changes.
"Everyone is different, and there are no absolutes in how we treat each woman," said Dr. Hirsch. "I encourage women to think about what your own specific needs are and to advocate for yourself. That's true for your interaction with any health care professional. As a specialist in women's health at midlife, I am here to be a vehicle to help you understand and guide you through menopause and to provide you with the right treatment."